In a joint operation involving the Central Investigation Bureau of Police (CBŚP), the Guardia Civil, Policia Nacional, Europol, and Polish counter-terrorism units, a major organized crime group has been disrupted, which was involved in smuggling narcotics and psychotropic substances from Spain to Poland through the Netherlands and Germany. The operation, conducted in Poland and Spain, resulted in the arrest of 20 suspects, including 6 individuals in Spain and 14 in Poland. Law enforcement authorities also seized 5 forged identity documents, money, and jewelry. The investigation is being led by the Western Pomeranian Branch of the National Public Prosecutor's Office.
CBŚP officers, along with prosecutors, have determined that an organized criminal group has been operating in the Lubuskie Voivodeship for several years, engaging in large-scale intra-community transportation of drugs and psychotropic substances from Spain, through the Netherlands and Germany, to Poland. To conceal their illicit activities, group members utilized refrigerated trucks, under the guise of a legitimate fruit and vegetable transport company, to smuggle significant quantities of various drugs, including marijuana, hashish, and cocaine, into Poland. According to the findings of the investigators, the gang members had ties to hooligan elements associated with various sports clubs, whose members hold antagonistic attitudes toward each other. The evidence gathered also indicates that the gang illegally procured firearms, most likely to protect their interests.
The initial blow to the gang was delivered by CBŚP officers in April 2022 when they apprehended 7 men involved in a cargo transfer in the Greater Poland Voivodeship. It was discovered that among the potatoes imported from Spain, 158 packages containing marijuana had also been smuggled. Subsequent searches of the suspects' homes, apartments, and other premises led to the discovery and seizure of an additional 51 packages of marijuana. In total, the police confiscated 237 kg of marijuana during that operation. Nearly simultaneously, thanks to the information provided by CBŚP officers, German authorities arrested 2 individuals near Dusseldorf and seized over 6.6 kg of marijuana. The drugs were also concealed within a potato shipment.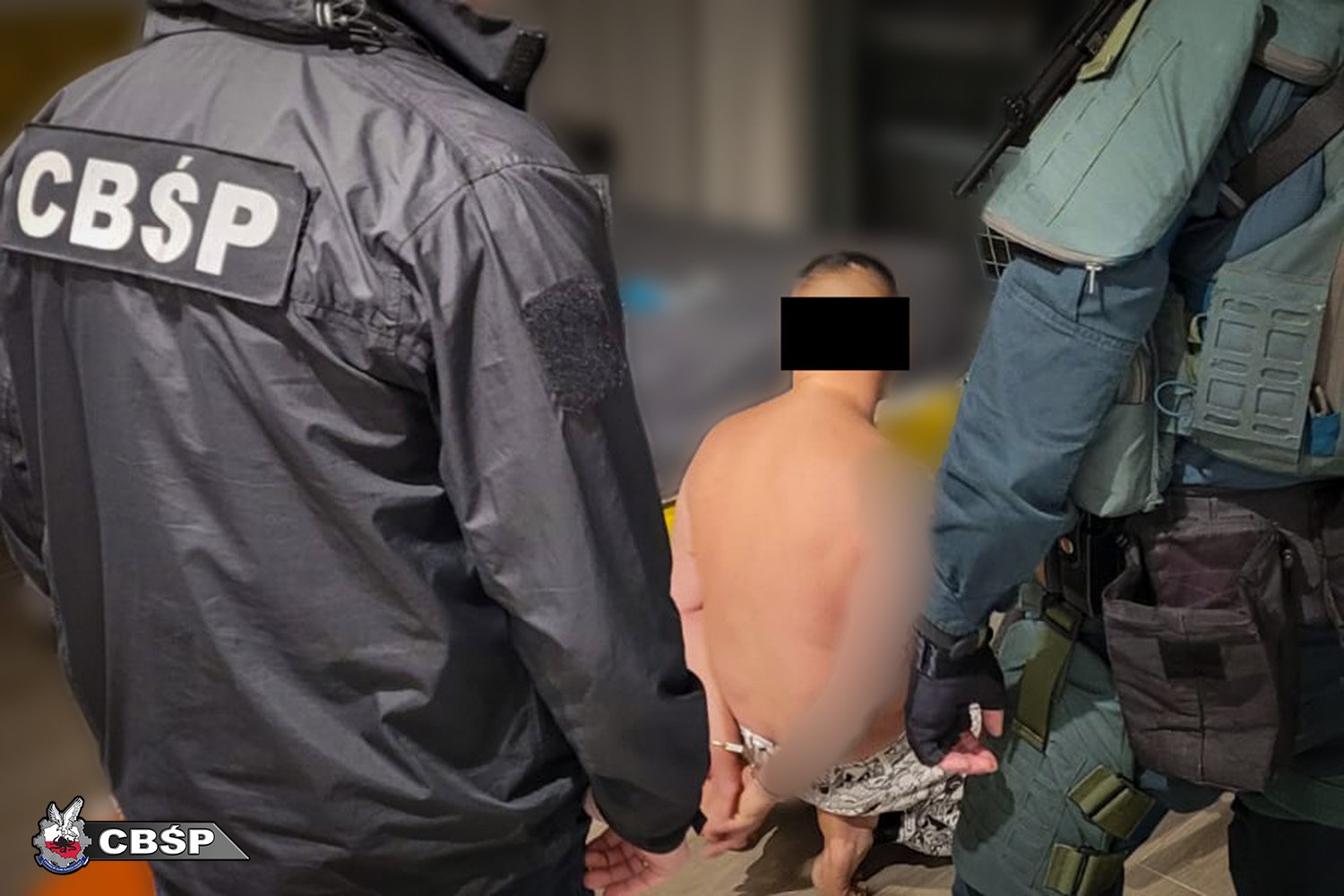 Recently, officers from the Central Investigation Bureau of Police, Gorzów Wielkopolski Headquarters prepared a large-scale operation involving over 100 personnel. CBŚP officers from Szczecin, Bydgoszcz, and Wrocław, as well as counter-terrorism units from the Independent Counter-Terrorism Subunits of the Police in Szczecin, Gorzów Wielkopolski, and Poznań, joined their colleagues from the Lubusz Voivodeship. The operation took place in the Lubusz, Pomeranian, and Western Pomeranian Voivodeships, resulting in the arrest of 14 suspects and the seizure of approximately PLN 200,000 in various currencies, as well as jewelry valued at nearly PLN 450,000. The arrested individuals in the Western Pomeranian Branch of the National Public Prosecutor's Office in Szczecin now face charges of participating in an organized criminal group and involvement in intra-community drug trafficking. According to the evidence gathered, the gang members may have been involved in smuggling over 3 tons of marijuana, with an estimated street value of PLN 150 million.
In Spain, Guardia Civil and Policia Nacional officers, with support from CBŚP, detained 6 individuals who have been temporarily arrested. During the operation, law enforcement officers seized over EUR 530,000 and 5 forged identity documents. Extradition procedures have already been initiated against these detainees.
The dismantling of this organized criminal group, the arrest of suspects, and the elimination of drugs from the market were made possible through international cooperation and information exchange between CBŚP officers, prosecutors from the National Public Prosecutor's Office, Spanish law enforcement officers from the Guardia Civil and Policia Nacional, with coordination and support from Europol and the International Cooperation Bureau of the Polish Police.
In total, the investigation has identified 42 suspects, from whom the police have seized 260 kg of marijuana, 5 kg of amphetamines, cocaine, 3 firearms with ammunition, as well as approximately 3 million zł in various currencies. Additionally, properties worth around PLN 1.9 million have been secured.