Polish clubs have kicked off the 2023/2024 season in spectacular fashion in European competitions. With ten matches played, they've secured eight victories and two draws, significantly boosting Poland's UEFA ranking to 21st place. Notably, Raków Częstochowa, Legia Warszawa, Lech Poznań, and Pogoń Szczecin remain in contention for the Champions League and Europa Conference League group stages.
---
These remarkable results have propelled Poland to surpass struggling Swedish teams, including Djurgardens IF, Hammarby IF, and Kalmar FF. The focus now is on maintaining at least the 22nd position to grant the Polish league champion a delayed start in next year's Champions League qualifiers. Pursuing higher ranks is crucial, as Poland eyes 19th place held by Croatia, while making up a four-point gap with 15th-ranked Norway.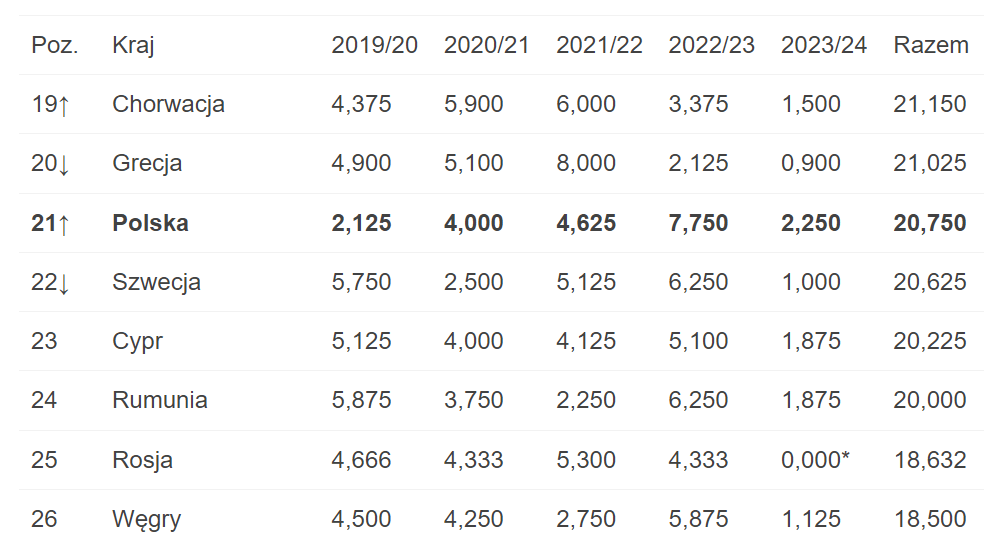 Interestingly, considering the UEFA club rankings from the last two seasons alone, the Polish Ekstraklasa would stand at an impressive 15th position. Permanently securing this spot could lead to two Polish representatives in the Champions League. As Polish clubs continue their journey in the European competitions, Lech, Legia, Pogoń, and Raków face tough opponents in the next rounds. The battles intensify, promising thrilling football ahead.
In the third qualifying round of the Europa Conference League, Lech will clash with Spartak Trnava (August 10 and 17), Legia takes on Austria Vienna (August 10 and 17), while Pogoń challenges KAA Gent (August 10 and 17). Meanwhile, Raków prepares to duel Aris Limassol (August 8 and 15) in the Champions League qualifiers. The stage is set for Polish clubs to shine on the European stage once again.