Estimated reading time: 2 minutes
Ewa Jakubiec, a 26-year-old resident of Wrocław, emerged as the winner of Miss Polonia 2023, showcasing her passion for modeling alongside her nursing career.
---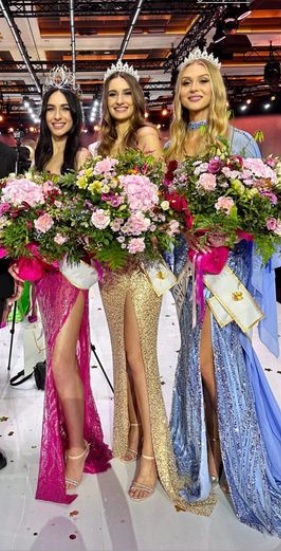 In the recently concluded Miss Polonia 2023 competition held in Zakopane, Ewa Jakubiec, a 26-year-old resident of Wrocław, was crowned the winner. Ewa, originally from Opolszczyzna, showcased her modeling skills while balancing her professional role as a certified nurse specializing in anesthesiology.
First and Second Runner-Up
Natalia Grabowska claimed the title of First Runner-Up in the Miss Polonia 2023 pageant, while Kornelia Gołębiewska secured the position of Second Runner-Up. Both contestants displayed remarkable poise and talent throughout the competition.
The Coveted Amber Crown
Ewa Jakubiec was bestowed with the prestigious title of Miss Polonia 2023 and awarded a handcrafted amber crown made from a single piece of silver. The crown, adorned with 1,832 meticulously set jewelry stones, featured a specially cut amber stone at its centerpiece. The unique diamond-like cut was applied to an exceptional piece of amber, handpicked from several kilograms of raw material for its ideal color and proportions.
The Miss Polonia 2023 finale was graced by captivating performances from renowned artists, including Doda, Piotr Kupicha, Dominik Dudek, and Komodo. Their enchanting acts added an extra sparkle to the already glamorous event.