Another great news from Dakar Rally in Sea Camp at the Red Sea! At Stage 11 of the rally, 18-year-old Eryk Goczał took second place in the light SSV (UTV) class. Rokas Baciuska leads the general classification, thirty seconds ahead of Eryk Goczał.
---
"The Polish driver had seemed well set to make up ground in the general rankings, but the T4 world champion eventually tasted victory, holding on to his status of leader at the rally's summit. A little more than 4 minutes now separate the two men on the evening of Stage 11."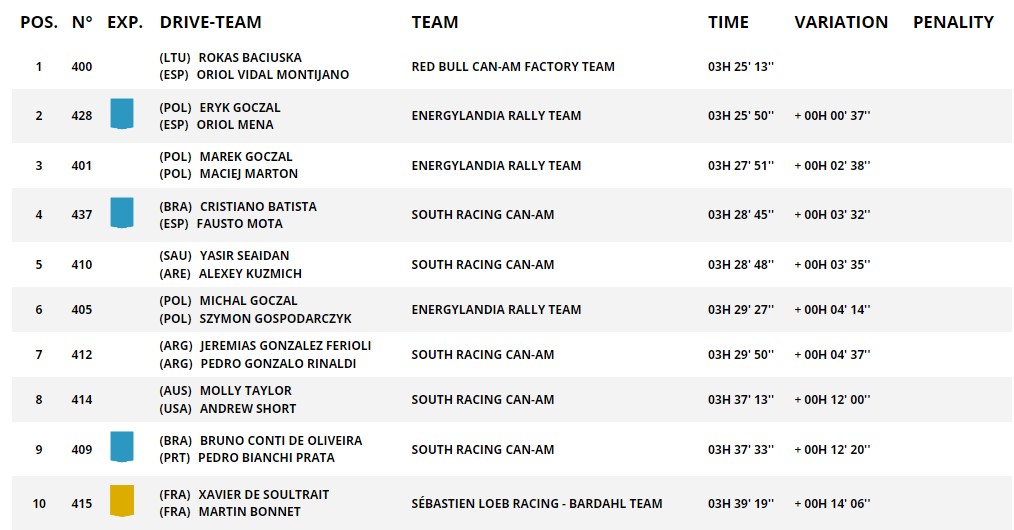 In the general classification, Rokas Baciuska increased the lead over 18-year-old Eryk Goczał from Energylandia Rally Team to 4.17.
Eryk Goczał took second place.
After Stage 11, Marek Goczał advanced to third from fourth place. He keeps hold of his place on the third step of the provisional overall podium.
Stage 11 included 153 km of access roads and 274 km of a special section in the "Empty Quarter" desert. This was the first part of the marathon stage. The team was not be able to use the help of the mechanics, so they had to watch out for the car and keep the speed.
3 stages to go!
In this edition, Poles compete in the class of light SSV cars, among the competition of 45 crews. They have 14 stages to overcome, measuring over 8,500 kilometers in total. The rally ends on January 15.
Follow Eryk Goczał's story on Youtube (English subtitles included):