The 99th nature reserve in the Wielkopolska region has been created in Poznań. The Czarne Doły nature reserve, with an area of over 120 hectares, will protect the site of the European pond turtle (Emys orbicularis).
This is not the first reserve in the area. Turtles have been protected here for more than forty years. An annual study of these mysterious animals is carried out by scientists from PTOP Salamandra; among other things, they count the turtles and assess their condition.
Few words about the turtle
The habitat in which the pond turtle most often occurs naturally in swamps, flooded alder carr, and wetlands. It is a predator that hunts and feeds exclusively underwater, eating aquatic insects, their larvae and snails, mussels, tadpoles, and frogs. Pond turtle spends most of its life in bodies of water, breathing with its lungs – atmospheric air, but can stay underwater for up to one hour. It overwinters buried in the silt at the bottom of the reservoir for about five months, waking from its winter sleep in April or May. The female sees in infrared, which is extremely important when finding a suitable breeding site. 
The pond turtle Emys orbicularius L. is a long-lived and dignified representative of reptiles in Poland. Covered by strict species protection since 1935, it leads a secretive lifestyle and is most easily observed during the breeding season, at the turn of May and June.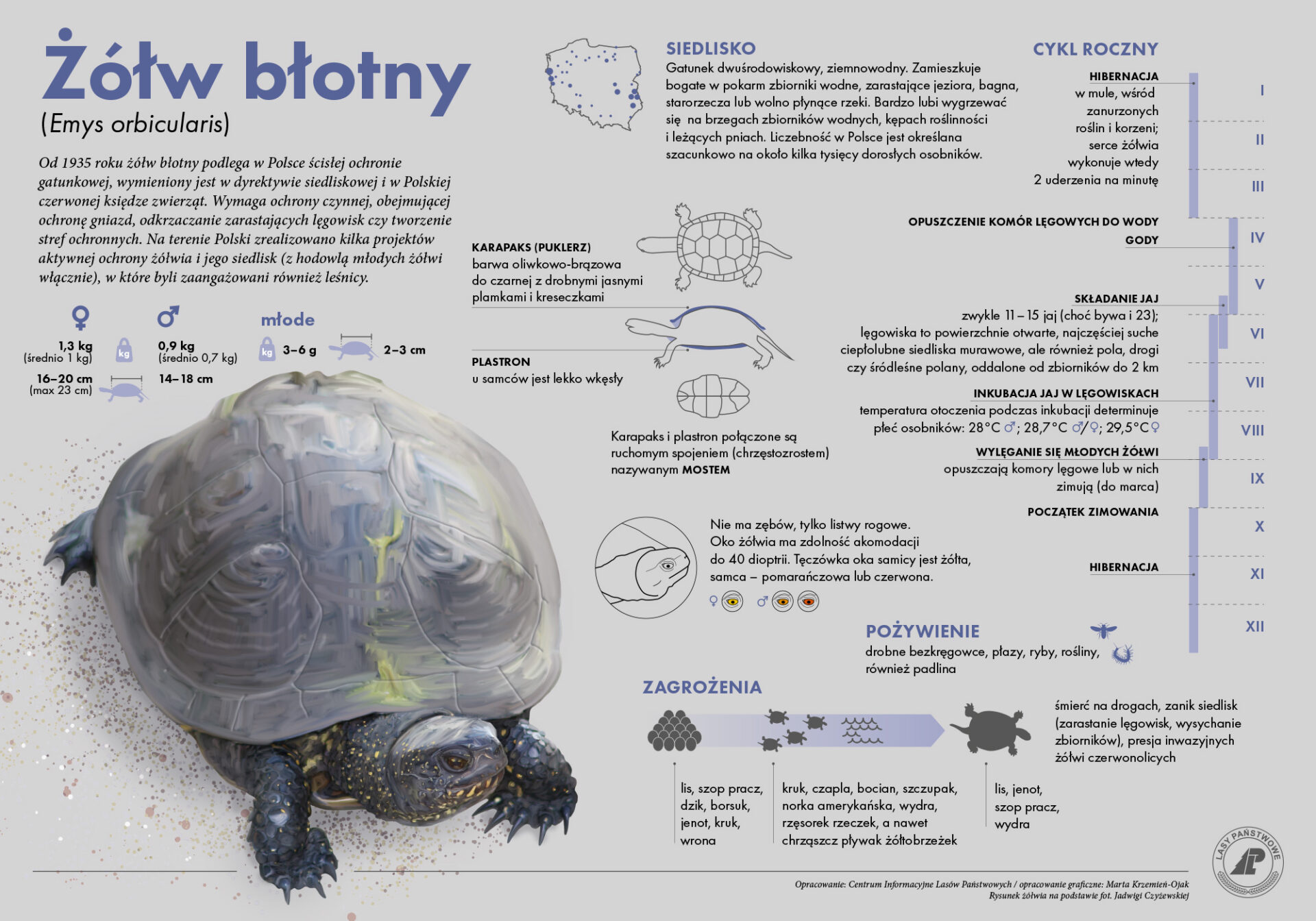 Location of occurrence
The largest population of the pond turtle in Poland is found in Polesie, in the forest districts of Sobibór, Chełm, as well as in the Poleski National Park, where it numbers approximately 1,500 individuals. The second most populous area for this species in our country is the Radom region, especially the Kozienice Forest. In western Poland, we can also encounter the pond turtle. It is found in quiet, peaceful, and wild areas of wetlands, including near the city of Leszno. This is an area that was protected over 40 years ago, in 1974.
From the pages of history
The pond turtle has also been included in the "Polska czerwona księga zwierząt" (English: Polish Red Book of Animals) and protected under the EU Habitats Directive. Since 2015, research in the area has been carried out by the Polish Society for Nature Protection "Salamandra," as part of the CHELONIA Programme. Additionally, the Club of Naturalists has been carrying out research since 2006, within the framework of the international LIFE project "Protection of the pond turtle and amphibians of the northern European lowlands."
The main activities for the active protection of these animals include monitoring their populations, improving habitat conditions (aquatic and terrestrial biotopes) and education.