Pierogi Ruskie, mistakenly attributed to Russia, have become immensely popular in Ukraine and Poland. This tried-and-true recipe for delectable pierogi is simply unbeatable. Whether for festive Christmas feasts or everyday dinners, these pierogi have firmly established themselves in Polish culinary traditions. Loved by both young and old, I enthusiastically invite you to join me in preparing this mouthwatering dish.
Ingredients for the pierogi dough:
500 g/ 17.6 oz wheat flour
1 cup hot water (approx. 250 ml)
4 tablespoons of oil
half a teaspoon of salt
Ingredients for the stuffing:
300 g/ 10.5 oz semi-skimmed cottage cheese
large onion (approx. 250 g)
600 g/ 21 oz boiled potatoes
2 tablespoons of clarified butter
half a level teaspoon each of salt and pepper
* This recipe is for about 50 pierogi.
Preparation:
Stuffing:
Start by peeling the potatoes and boiling them in salted water until they become soft.
Once cooked, drain the water and thoroughly mash or grind the potatoes until you have approximately 500 grams of mashed potatoes.
Allow the mashed potatoes to cool, setting them aside.
In a bowl containing the mashed potatoes, add half a level teaspoon of salt and pepper, and mix well.
Peel and finely shred an onion.
Heat a frying pan and add two tablespoons of clarified butter. Alternatively, you can use fine olive oil or any other suitable frying oil.
Sauté the shredded onions in the heated pan over medium heat for about 10 minutes, until they become golden brown.
If using cottage cheese, process it in a food processor until finely minced.
In a bowl, combine the mashed potatoes, minced cottage cheese, and sautéed onions together. Season with salt and pepper according to taste. Mix well to ensure all the ingredients are thoroughly incorporated.
Dough:
Begin by sifting the flour into a wide bowl.
Add half a teaspoon of salt and four tablespoons of oil, such as rapeseed oil.
Pour a glass of hot, boiled water into the bowl and stir the mixture with a spoon until a dough forms. Alternatively, you can knead the dough confidently. You can use a machine like a Thermomix.
! Ensure the dough is soft and elastic in texture.
Wrap the dough ball in plastic wrap and let it rest for 30 minutes.
After the resting time, unwrap the dough and divide it into three equal pieces. Set aside two pieces, covering them with a cotton cloth to prevent drying.
Roll out one piece thinly on a pastry board or a lightly floured work surface. Use a glass or a pastry cutter (approximately 8 cm in diameter) to cut out rounds for the pierogi.
Spoon the pierogi stuffing into the centre of each dough round. Flatten the stuffing slightly to create a roll-like shape that perfectly fills the inside of the pierogi.
Fold the pierogi in half and firmly seal the edges.
Place the prepared pierogi side by side on a pastry board and cover them with a slightly damp cotton cloth to prevent drying.
Bring a pot of salted water to a gentle boil. Avoid heavy bubbling.
Carefully place the pierogi in the boiling water, cooking them for about 3-4 minutes after they float to the surface.
Use a skimmer to remove the cooked pierogi from the water, and they are ready to be enjoyed.
You can top the finished pierogi ruskie with clarified butter and glazed onions or lard with pork scratchings.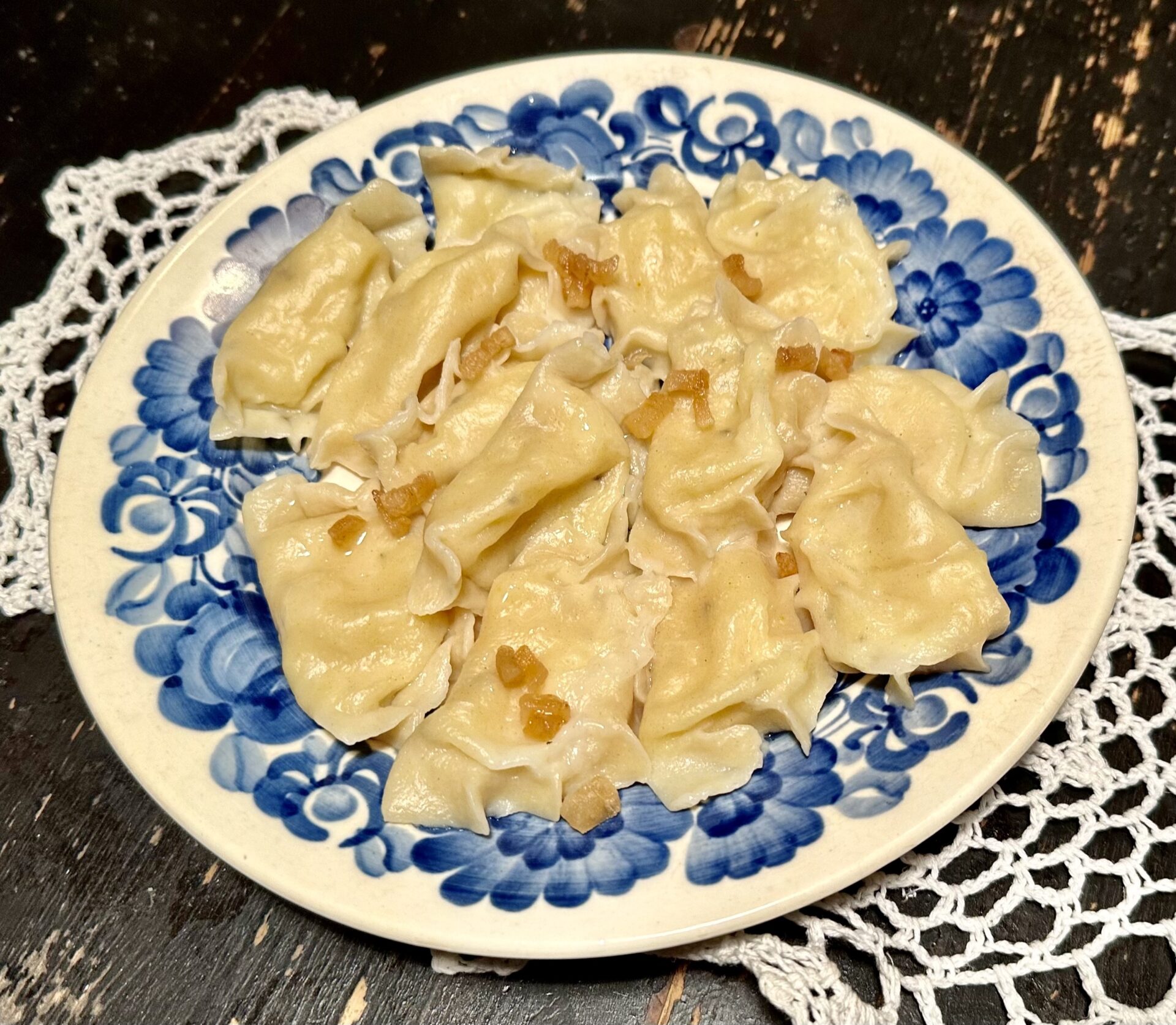 ---
Read also ⤵️