During the BIME Festival on October 26th, fifteen exceptional European artists were unveiled as nominees for the prestigious Music Moves Europe Awards 2024, presented by the European Union. Among the notable nominees is Poland's representative, Berry Galazka.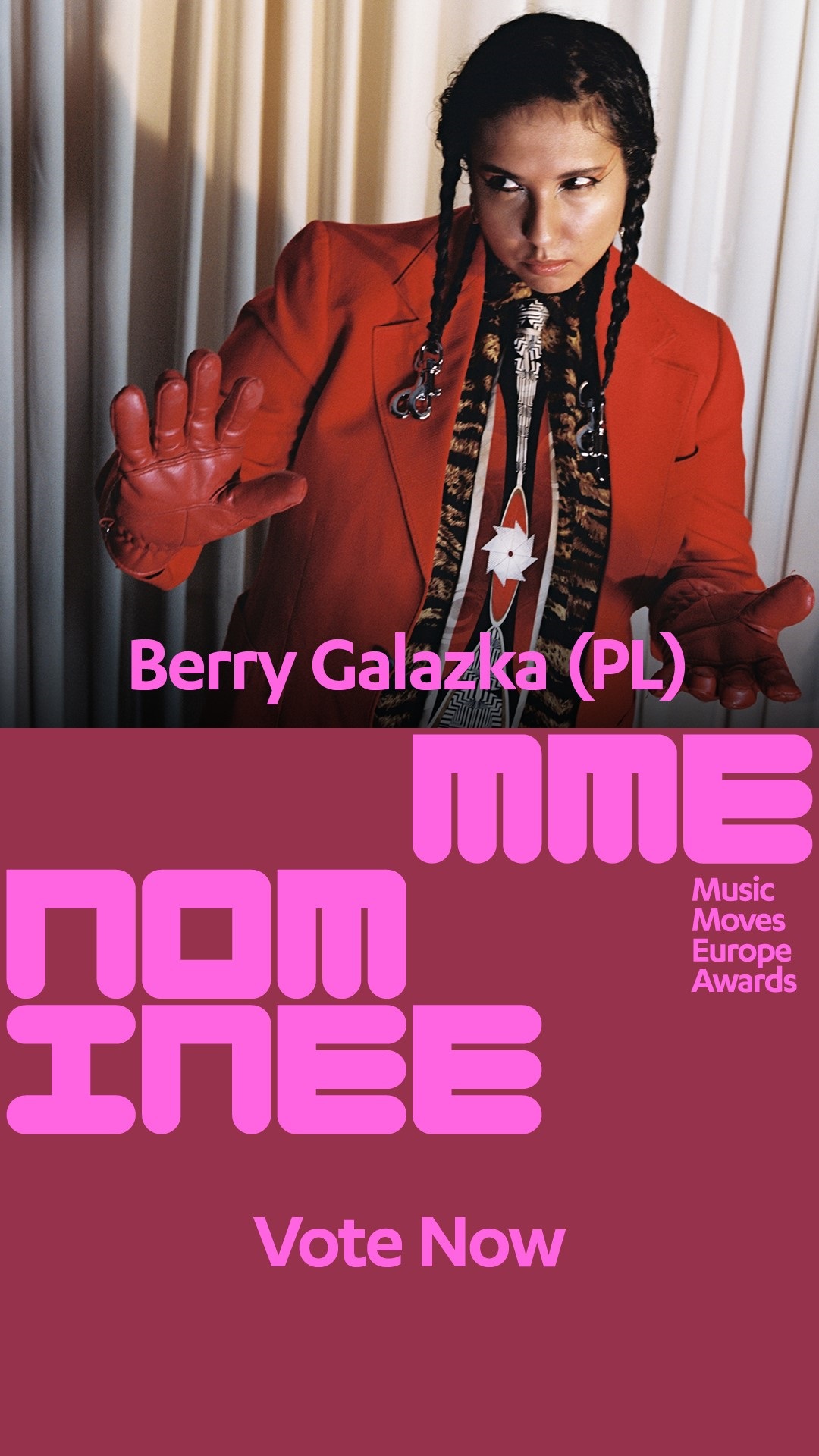 The diverse array of nominees includes:
Bulgarian Cartrader (Bulgaria)
Fran Vasilić (Croatia)
Giift (Denmark)
Pearly Drops (Finland)
Zaho de Sagazan (France)
CLOCK CLOCK (Germany)
Arny Margret (Iceland)
yunè pinku (Ireland)
Tramhaus (Netherlands)
Ash Olsen (Norway)
Ana Lua Caiano (Portugal)
freekind. (Slovenia)
Ralphie Choo (Spain)
waterbaby (Sweden)
Berry Galazka (Poland)
These artists represent the cutting edge of European music, contributing to the continent's cultural richness and diversity.
➡️ You can vote here.
Celebrating Music Industry Trailblazers: The Prestigious MME Awards and the Public's Voice in 2024
The Music Moves Europe Awards (MME Awards) celebrate emerging artists who have left a mark on the music industry. Past winners include luminaries such as Stromae, Alyona Alyona, Rosalia, and Dua Lipa, reflecting the calibre of talent recognized by the MME Awards.
One exciting element of the MME Awards is the MME Public Choice Award 2024, allowing music fans across Europe to cast their votes on the Music Moves Europe Awards website at www.mmeawards.eu. Jerry Heil, last year's Audience Award winner from Ukraine, joins the jury for the Music Moves Europe Awards 2024, emphasizing the importance of artists who sing from the heart.
Prizes, Showcases, and the European Music Scene at MME Awards 2024
The MME Awards offer a substantial prize package for deserving artists, with one receiving the Grand Jury Award and a 5,000-euro concert tour voucher. The winner of the MME Public Choice Award 2024 will also receive 5,000 euros.
All nominated artists will showcase their talents at the ESNS festival and participate in the MME educational program, supported by ESNS and esteemed partners.
The Music Moves Europe Awards competition is a key component of the European Union's efforts to promote the European music sector and empower emerging artists and industry professionals while fostering a unified and diverse European music scene.
The future looks bright for the nominees, who are poised to make a lasting impact on the European music industry. As fans eagerly await the results and thrilling performances at the ESNS festival, the nominees are set to leave their mark on the European music scene.