Estimated reading time: 2 minutes
As 2023 marks the 500th anniversary of Anna Jagiellonka's birth, the National Bank of Poland is honoring her with a special collector's item. Anna Jagiellonka, born on October 18, 1523, was the daughter of King Sigismund I the Old and Bona Sforza. She received a comprehensive education, excelling not only in the arts and traditional feminine skills but also in languages, including Polish, Italian, Latin, and German.
---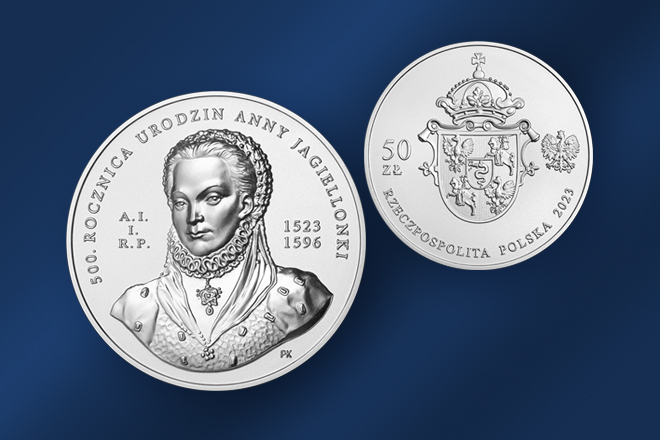 The collector's coin, with a face value of 50 Polish złoty, is crafted from 999 fine silver, measures 45.00 millimeters in diameter, and weighs 62.20 grams. Limited to just 7,000 pieces, the coin features Anna Jagiellonka's portrait on the reverse, based on an anonymous miniature, alongside her life years and the abbreviation "A.I.I.R.P." which translates to "ANNA JAGIELLONKA INFANT OF THE KINGDOM OF POLAND."
Anna's Legacy and Reign
After the death of her father in 1548, Anna moved to Warsaw with her mother, Bona. In 1573, she was elected as queen by the Polish nobility and was intended to marry Henry of Valois, but he never fulfilled the commitment. Ultimately, Anna married Stephen Báthory, who assumed the real power in the country. After his death in 1586, Anna relinquished her rights, leading to the election of her nephew, Sigismund III Vasa.
The silver coin, celebrating Anna Jagiellonka's 500th birthday, is available for purchase at National Bank of Poland Regional Branches and the NBP Collector's Online Store for 900 Polish złoty.
Mark your calendars for October 10, 2023, as the National Bank of Poland plans to introduce another collector's coin, "The Relief of Vienna," featuring a gold coin with a face value of 100 złoty and a silver coin with a face value of 50 złoty.