During a recent lecture organized by GAZ-SYSTEM at the Economic Forum in Karpacz, Professor Jeffrey Sonnenfeld from Yale University underscored the global significance of Poland's diversification efforts in the energy sector, particularly in natural gas. These efforts have enabled Poland to break free from its gas dependency on Russia, positioning itself as a leader in the field. This achievement has become increasingly crucial in light of Russia's ongoing invasion of Ukraine.
Poland's journey towards gas independence has been marked by a pragmatic approach and the consistent efforts of its government in recent years. This initiative, initiated by the late President Lech Kaczyński, aimed at definitively ending the country's reliance on Russian gas. Nevertheless, Poland still faces the challenge of ensuring energy security while a war rages on its eastern border in Ukraine. GAZ-SYSTEM, responsible for delivering natural gas to Polish consumers and developing LNG transportation to neighbouring countries, seeks to play a stabilizing role in this tumultuous period while also pioneering new trends in Central and Eastern Europe's energy landscape, as announced by Prime Minister Mateusz Morawiecki's concept of an energy hub for the region.
Europe is now confronting critical questions about the future of natural gas, with Poland strategically positioned to efficiently leverage its modern transmission infrastructure, commissioned in 2022. European nations are striving for carbon neutrality, utilizing methane, hydrogen, and biogas. Europe is seriously reconsidering the role of hydrocarbons, aiming to reduce fossil fuel consumption and increase reliance on renewable energy sources. GAZ-SYSTEM, as the national gas transmission system operator in Poland, is keen to harness its potential effectively, enhance LNG availability, and implement new technologies for the transmission of low and zero-emission fuels, such as biomethane and hydrogen.
With a mission to actively participate in Poland's and Europe's energy transformation, GAZ-SYSTEM aims to evolve into a multi-gas company, benefiting the Polish economy. One of its significant achievements over the past decade has been the consistent effort to break free from Russia's gas monopoly, a mission rooted in a sense of purpose and responsibility.
Professor Jeffrey Sonnenfeld about Poland's energy transition
During this year's Economic Forum in Karpacz, Professor Jeffrey Sonnenfeld, a prominent advisor to influential decision-makers, emphasized the various roles played in this transition process, including personal leadership, global politics, business, financial markets, and society as a whole. He stressed the significance of global LNG supplies and the need for an expanded market. In line with this vision, GAZ-SYSTEM is expanding the LNG terminal in Świnoujście, increasing regasification capacity, and designing a floating LNG terminal in the Gulf of Gdańsk. New gas transmission pipelines, such as Gustorzyn – Wronów, Gazociąg Warszawski (Warsaw Pipeline – ed.), Skoczów – Komorowice – Oświęcim, are under construction, along with connections to the gas network for combined heat and power plants like Dolna Odra, Rybnik, Ostrołęka, and Kozienice.
Professor Sonnenfeld's presence at the Economic Forum highlighted the role of leadership, both personal and political, in shaping the energy landscape. He commended Poland for its forward-thinking approach, which has enabled it to achieve gas independence from Russia, in contrast to some Western European nations that continue to grapple with gas dependency.
Professor Sonnenfeld also emphasized the importance of maintaining sanctions on Russia, a sentiment echoed by many in the international community. Despite initial scepticism from economists, the International Monetary Fund, and Western media, Russia's ability to disrupt European gas supplies became a grim reality. European countries found themselves cut off from gas, their economies heavily reliant on Russian resources. This situation exposed the absence of the critical infrastructure and international credibility that Poland has invested in.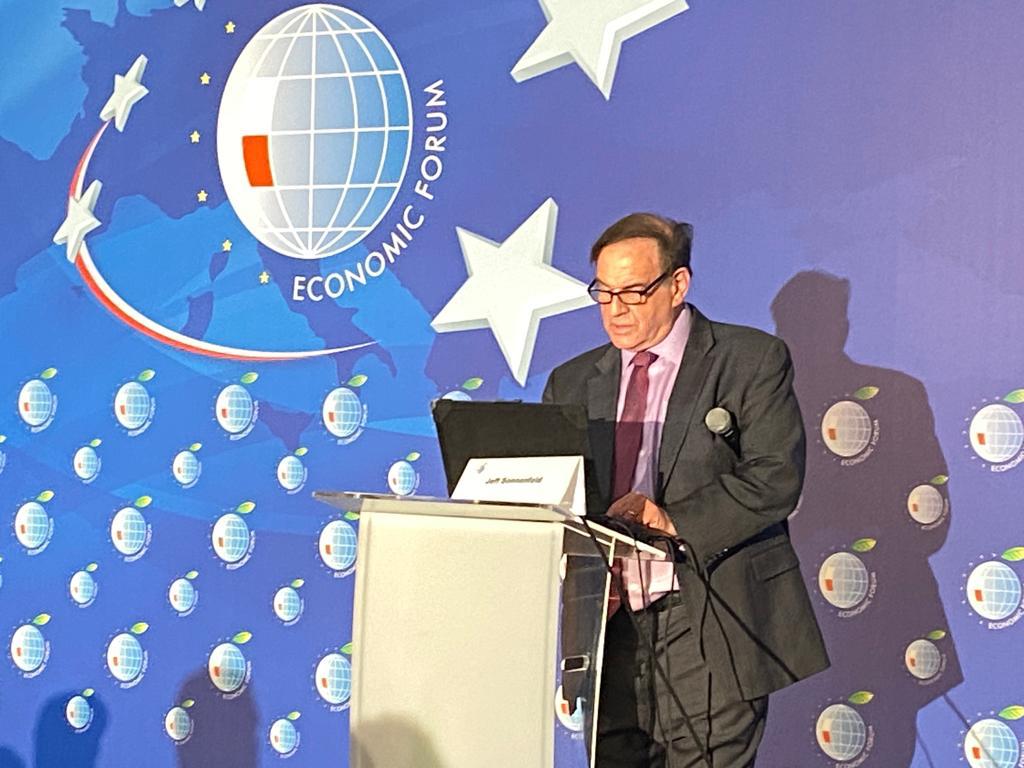 GAZ-SYSTEM S.A. is the partner of the article.