The war in Ukraine is still ongoing, and the State Forests is not only continuing their efforts to support the country, but also expanding them. The State Forests has just donated another fleet of vehicles and much-needed generators to the Ukrainian foresters. This is the largest tranche of in-kind assistance so far provided to our neighbours from across the eastern border.
The symbolic handover of the cars to the Ukrainian side took place at the Tomaszów Forestry Commission. In addition to being provided with the necessary equipment, the Ukrainians were assured of continuing assistance for as long as it is required and possible.
To emphasise the importance of the event and the significance of Polish support for the Ukrainian people, the ceremony was attended by Anna Moskwa – Minister of Climate and Environment, Józef Kubica – Director General of the State Forests, Magdalena Kapuścińska – Deputy Director General for Property and Procurement, directors of the regional directorates of the State Forests from Lublin, Olsztyn and Szczecin, as well as a large group of foresters from all over Poland.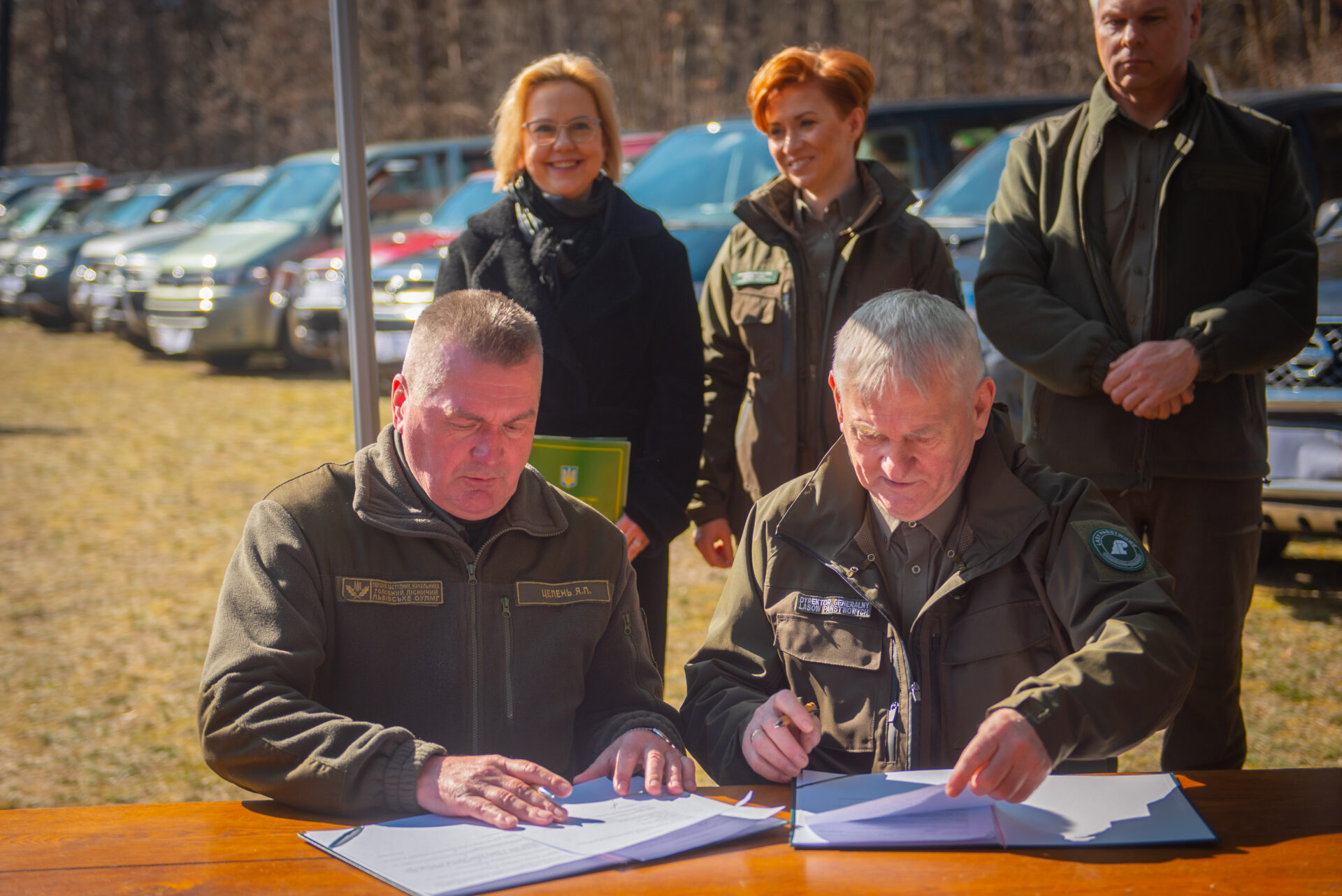 Minister Moskwa emphatically emphasised that the help of foresters has no boundaries. In addition, Director General, Józef Kubica, explained that in the face of the war in Ukraine, there can be no other response than to help a nation affected by a conflict in which people are dying.
"This help is coming from all over the world, including from Polish foresters. Once again, I assure you, friends from Ukraine, that you can count on us. We will support the struggling Ukraine for as long as it takes," he said.
In response, Yurii Bolokhovets asserted that Ukraine today is fighting not only for its own independence.
"We are fighting for our common European values. We are fighting for a free, civilised world and the possibility to live in such a world. Your help is extremely important. It is not only of technical importance, but also of moral significance. It motivates us to resist. Thanks to your help, we do not feel alone in our struggle. I am convinced that if we stand together and support each other, victory will be on our side too," he stressed.
Polish foresters have consistently provided aid to Ukraine since the beginning of the escalation of hostilities. Forestry districts from the Lublin and Krosno regions have organised aid points at border crossings.
In-kind collections, including collections of field clothing, were held at State Forest units across the country. The "Backpack for Ukraine" campaign was widely echoed among the staff of 26,000. Foresters prepared more than 1,300 tactical kits packed in sturdy backpacks. In this way, night vision goggles, tactical footwear, binoculars and provisions, among other items, were delivered to the forestry units of the Territorial Defence.