Estimated reading time: 4 minutes
In Washington, on April 25, 2023, the Remembering the Katyn Massacre Conference was held, organized by the Smolensk Disaster Commemoration Committee in cooperation with the Victims of Communism Museum. The conference, entirely in English, was addressed to American audiences and representatives of the diplomatic corps.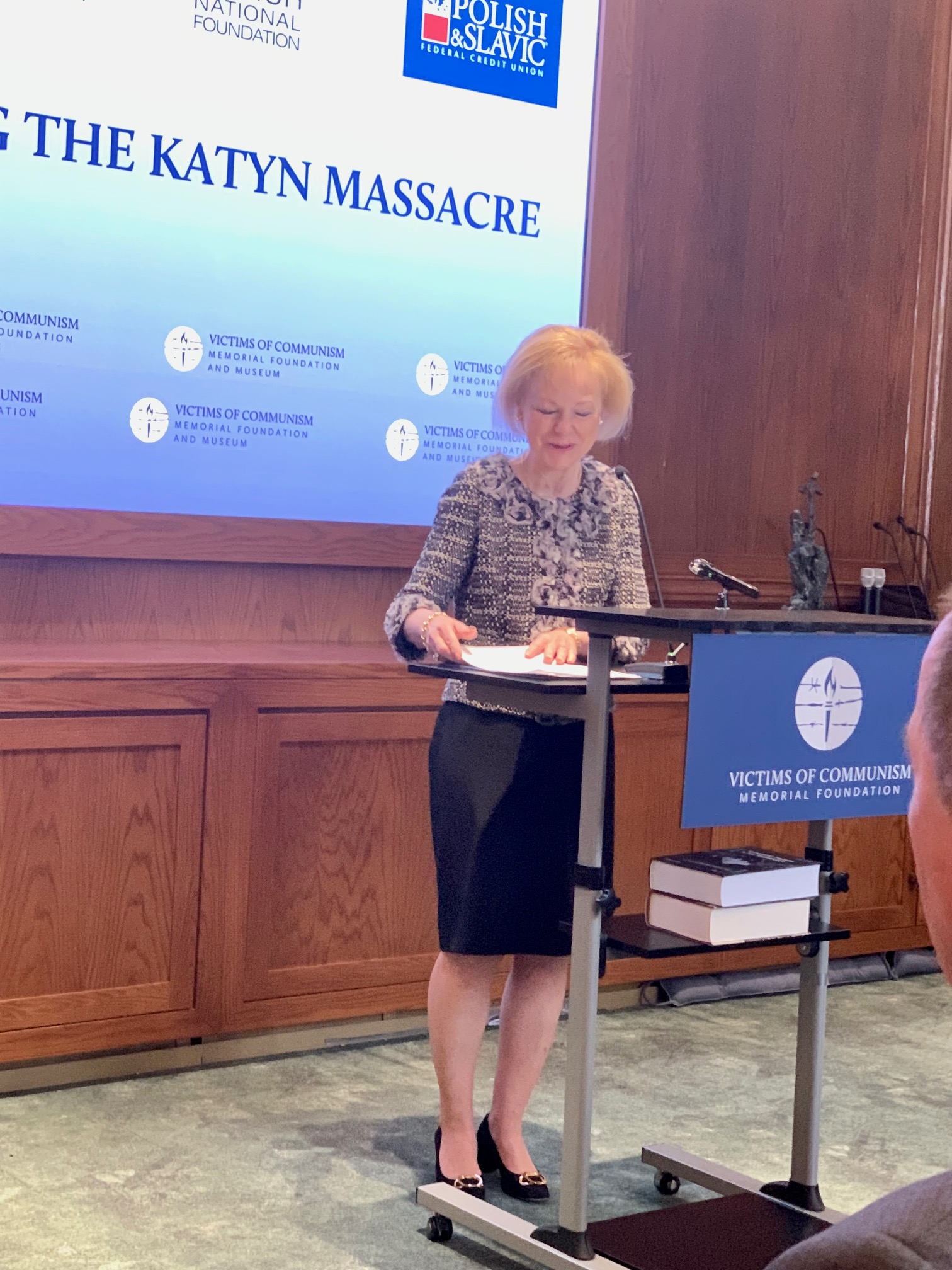 ---
The speeches were heard by the international environment of Washington diplomacy and journalists. Among the foreign guests were diplomats working in Washington, including the ambassadors of Lithuania and Latvia, and the Deputy Ambassadors of Ukraine, Estonia, and Bulgaria.
Representatives of the Belarusian community in the USA also participated. Poland was represented by Adam Krzywosądzki, Deputy Ambassador of the Republic of Poland in Washington, and Deputy Military Attache, Captain Maciej Stadnicki.
The participants were welcomed by the director of the Victims of Communism Museum, Ken Pope, and Tadeusz Antoniak, chairman of the Smolensk Disaster Commemoration Committee. The former US ambassador to Estonia, Aldona Woś, member of the museum board and President of the Institute of World Politics, performed a very emotional speech as the families of the victims of the Katyn Massacre.
After the Remembrance Appeal, devoted to the victims of the Katyn massacre, but also to the Smolensk attack and the war in Ukraine, papers were presented. The panel part was moderated by Ambassador Andrew Bremberg, director of the museum. The Senior Marshal of the Sejm of the Republic of Poland, Antoni Macierewicz, in his paper, compared the Katyn massacre to the Smolensk bombing, that it was the beginning of preparations for the war in Ukraine. The deputy ambassador of Ukraine pointed out that the Russians were removing Polish elites in order to expand their sphere of influence. It is similar today in Ukraine.
Dr. Karol Polejowski, vice-president of the Institute of National Remembrance, in his paper (read out by the organizers due to the absence of Dr. Polejowski), presented the genesis of the murder and the goals of the Russians as well as the victims of the murder.
Filip Frąckowiak, director of the Cold War Museum General Kuklinski presented the consequences of the Katyn massacre for the society of the People's Republic of Poland and the Polish People's Army until 1989.
The ceremony was crowned with a concert by Paweł Piekarczyk entitled 'Underground Army Returns' using audiovisual arts and text translations.
The Museum of Victims of Communism is located in the center of Washington, in a prestigious location, about 300 meters from the White House. The exhibition presents the victims of communism and Soviet interests in the world. The museum also collects testimonies about the crimes of communism, including those from Poland. The Remembering Katyn Massacre Conference was co-financed by the Polish National Foundation, and Polish Slavic Federal Credit Union.
Author: FF, AA, JS