The recent statements made by Ukraine's President Volodymyr Zelensky have rekindled public debate in Poland. Politicians from the ruling coalition have firmly responded to the Ukrainian president's remarks, assuring continued support for Ukraine in its struggle against Russian aggression. However, the politicians from the Confederation party have chosen a different path, seeking to gain political capital from Zelensky's words. The Confederation's activity has not gone unnoticed by the Kremlin's propaganda machine, with Russia Today extensively covering Krzysztof Bosak's statements.
While addressing the 78th session of the United Nations General Assembly in New York, President Volodymyr Zelensky mentioned that Ukraine is working diligently 'to maintain land routes for grain exports.' He went on to say, 'It is disconcerting how some in Europe, some of our friends in Europe, are playing in the political theater, creating a thriller about grain. They may appear to be playing their own roles, but in reality, they are setting the stage for a Moscow actor.' These words prompted swift responses from key politicians in Poland.
Jarosław Kaczyński, the leader of the Law and Justice (PiS) party, reminded that Poland had been 'ahead of everyone' in supplying arms and pledged that Poland would remain at the forefront in supporting Ukraine. However, he emphasized that there was no agreement to 'liquidate Polish agriculture.'
Prime Minister Mateusz Morawiecki stated that 'if there is further escalation on the Ukrainian side, we will take additional steps within the embargo on our side.'
President Andrzej Duda briefly acknowledged that Zelensky had gone 'too far,' adding, 'Ukraine has received a lot of help from its allies. It is regrettable that such words are spoken at the United Nations about those who provided support.'
In response to Zelensky's remarks, the Polish Ministry of Foreign Affairs summoned the Ukrainian ambassador. Deputy Foreign Minister Paweł Jabłoński expressed the expectation that 'both the policies pursued by the Ukrainian authorities and their public communication will reflect the actual nature of Polish-Ukrainian relations.'
Were Zelensky's words a real godsend for Confederation?
Stoking emotions is not in the interest of either country. However, the Confederation party appears to hold a different view. Following Zelensky's remarks, politicians from this party have become notably active.
A few days ago, one of the Confederation leaders, Krzysztof Bosak, visited the Ukrainian embassy to 'present a bill for the support provided.' He argued that the sum exceeded 100 billion Polish złoty.
It did not take long for the Kremlin's propaganda machine to seize on Bosak's words. Russia Today published an article today titled, 'Polish MP "bills" Ukraine $23 billion for support.' The author contends that this 'action is a reprimand for Kyiv' and lists various forms of assistance provided directly to Kyiv by the Polish government, social benefits for Ukrainian refugees, and private donations from Polish citizens.
The article also quotes Bosak saying, 'The total amount is probably "significantly understated and incomplete" or "we need to start playing tough, just like Ukrainian oligarchs, whom Ukrainian politicians represent."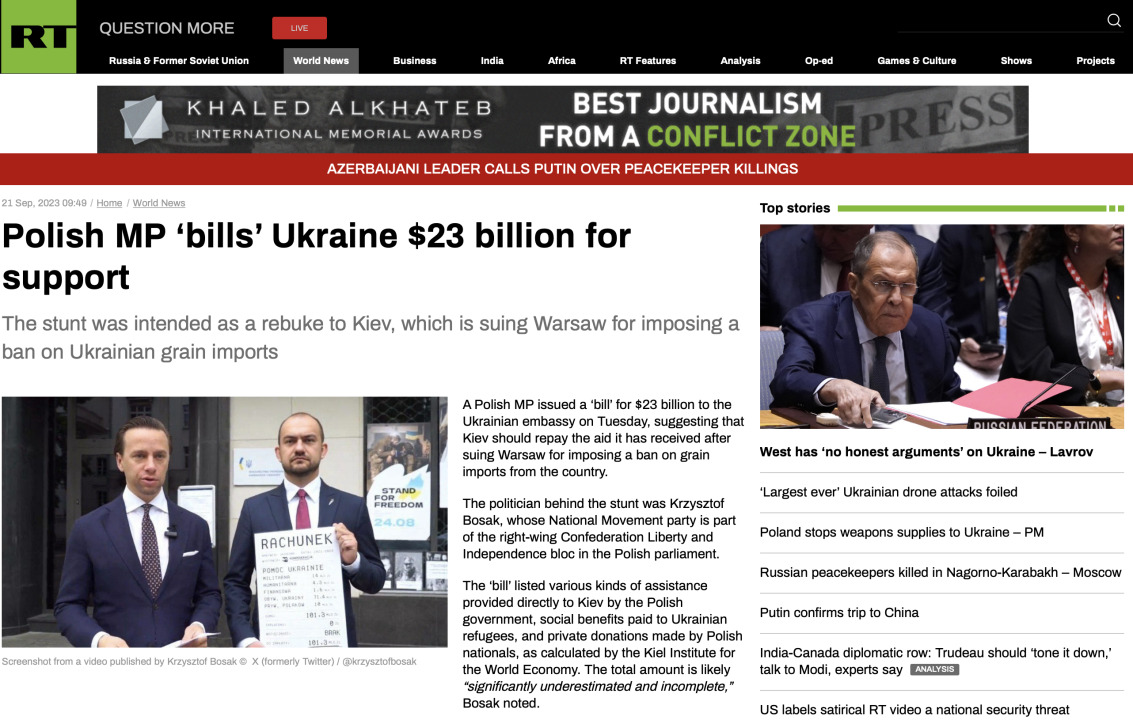 The Confederation has been a star in Russian media on multiple occasions. Most recently, after their convention at the end of June, when Grzegorz Braun spoke about 'Banderaization of the Polish statehood,' and the entire hall greeted his words with loud applause, the Russian news agency RIA Novosti reported, 'Poles enthusiastically responded to the call to prevent the Banderaization of the country.'