PGE Energia Odnawialna, a PGE Capital Group company, intends to launch installations from renewable sources with a total capacity of nearly 100 MW on the premises of the Strategic Investment Park Euro-Park Stalowa Wola. To this end, an agreement has been signed with the City of Stalowa Wola and the Euro-Park Stalowa Wola company from the Industrial Development Agency Group. The green energy produced in the new installations will be used for the needs of the city and the companies operating on the premises of the Investment Park and the Tarnobrzeg Special Economic Zone.
According to preliminary assumptions, the construction of the first installations may start as early as next year. The PGE Group will have at its disposal over 70 hectares of land on which solar power plants with a total capacity of 70 MW can be launched. In addition, the construction of 7 wind turbines of up to 4 MW each, a RES service centre and energy storage facilities with a capacity of up to 30 MWh.
The Strategic Investment Park Euro-Park Stalowa Wola is an area of almost 1,000 hectares, which has been designated for industrial investments related to supporting the development and implementation of modern technologies in the field of energy, electromobility, transport, hydrogen technology, aviation, and the automotive industry.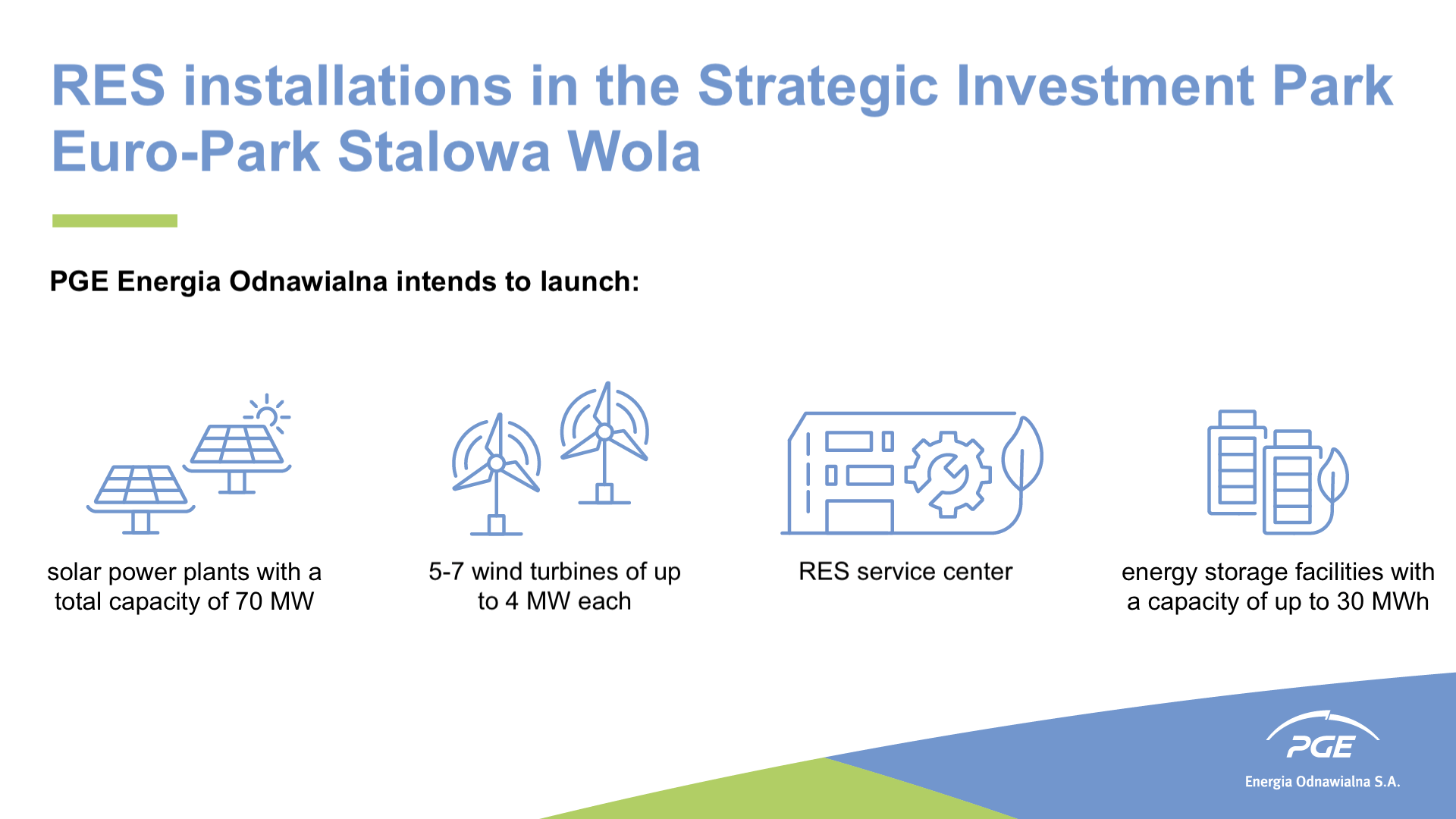 ---
The Tarnobrzeg Special Economic Zone was established in 1997. It covers 35 counties located in the Podkarpackie, Lubelskie and Mazowieckie voivodeships.
It aims to accelerate the economic activity of the region by, among other things, attracting investment, developing exports, and creating new jobs. In this area, the PGE Group is implementing one of the largest photovoltaic investments in Poland – the Jeziórko PV farm in the Grębów municipality. It will reach a target capacity of 153 MW in 2024.
A member of the PGE Capital Group, PGE Energia Odnawialna is currently the largest producer of green energy in Poland. It has 20 wind farms, 29 hydroelectric power plants, 4 pumped storage power plants and 24 photovoltaic power plants. The total installed capacity of all facilities is 2433.1 MW.