Estimated reading time: 2 minutes
A team of engineers from Warsaw created a startup healthUapp – an online platform with short physical exercises for office workers. Starting the project with just an idea a year ago, now at Wolves Summit, they were awarded access to Demium's startup incubator.
Wolves Summit was held in Vienna on 20-21st October 2022. More than 2000 innovative startups applied for participation, and 50 of them were selected to present their ideas in the Startup Showcase. And only 5 were awarded by Demium – International Talent Investor – to take part in its 6-month incubation program with a chance to get €150k initial investment and a follow-up of up to €500k. healthUapp ranked this top 5.
The founder Siahei Fedarenka initially tackled the problem of diseases caused by a sedentary lifestyle – when a worker spends their typical 8-hour working day mostly in a sitting position.
The solution is to increase physical activity among office workers by implementing short, but active breaks. Platform healthUapp is powered by Artificial Intelligence and Machine Learning. Computer vision technology scans a person's posture and shows whether exercises are done correctly.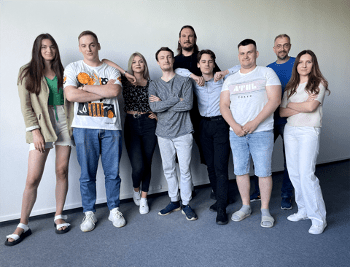 A worker performs their routine job in front of the screen for 2 hours, for instance. Then switches to online exercises adapted to the office environment, and after 3 minutes exercising returns to the responsibilities more energetically.
The core mission of the Warsaw-based startup healthUapp is to prevent diseases caused by a sedentary lifestyle.
This online platform may be implemented as a part of a corporate wellness program in any company. In future the product will evolve into a tool to correct posture disorders, to improve the results of orthopaedic and orthodontic treatment.
"Although healthUapp is already on the market, hope, with the assistance of experienced mentors, we can encourage more polish people to maintain a healthy lifestyle with simple steps – just with short stretching at work," Siahei said.